Getting a website these days is no longer a difficult task. But one area that has proven to be a bit difficult for brands and businesses is thinking about the long-term strategy when doing so.
Choosing the right domain name can be complicated therefore, it is important to understand how things work to make an informed decision. If you have questions about buying a domain name or buying one from a third-party host, we have answers for that too!
Most of us have heard the term domain name, but what exactly does it mean?
What is a domain name?
A domain name is a unique identifier that helps people find your website online. It is the unique web address that people use to access a website online, for example, www.effetowers.com.
You can think of a domain name as being like an address for your website. It is sometimes referred to as a URL (Uniform Resource Locator), but either way, it's what users use when they want to visit your site.
The Types of Domains
When buying a domain name for your website, it is important to note that there are two domain name types to interact with;
Second-Level Domains (SLDs)
Top-Level Domains (TLDs)
1. Second-Level Domains (SLDs)
A second-level domain is the first part of a web address; it's what separates your brand from other websites. For example, the second-level domain for www.effetowers.com is effetowers.
The second-level domain can be a combination of letters and numbers and can either be short or long.
2. Top-Level Domains (TLDs)
A top-level domain is the last part of a web address. It is also known as an "extension" or "suffix" because it tells where your website is located on the internet.
TLDs are often separated from the second-level domain by a period. For example, the top-level domain for www.effetowers.com is .com.
A top-level domain is usually short comprising two to three letters in length. Some examples of TLDs include; .com – Commercial/personal, .net – Networking/information technology, .org – Organization/nonprofit, .edu – Education, .gov – Government agencies & ministries, .co – Company.
There are also country code top-level domains ccTLDs for example; .ng – Nigeria, .us – United States, .uk – United Kingdom, etc.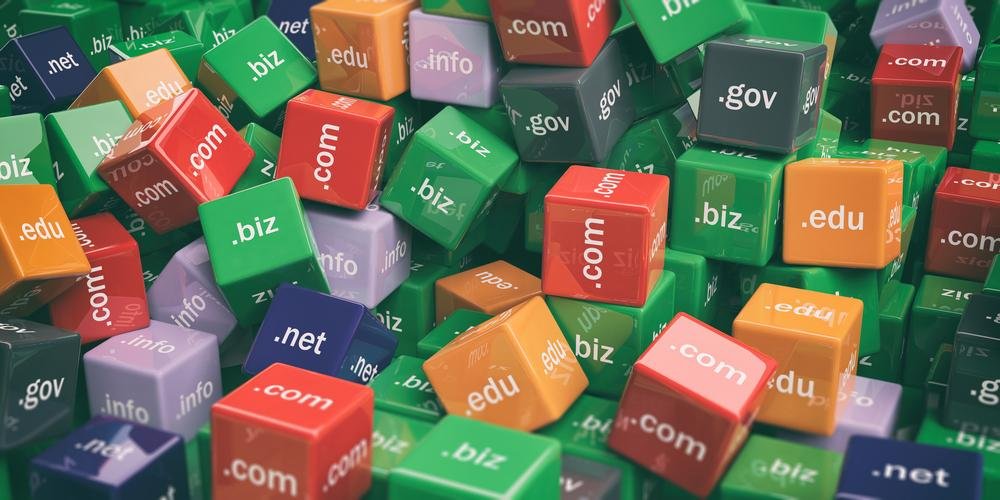 Getting a Domain Name – The Steps
The process of getting a domain name is not a difficult one. Domain names are available on the internet, and you can purchase them at any time. However, because you want to ensure that no one else can use your domain name before you do, it's best to purchase it as soon as possible.
To secure your domain name, you will need to take the following steps;
Step 1: Brainstorm on a Domain Name
The first thing you will need to do before buying a domain name is to brainstorm a domain name that will best represent your website. This could be the name of your products or services or even an acronym if it's easier for you. You must choose a unique name that will be easy for people to remember. This automatically leads to the next step in the process.
Step 2: Checking for Domain Name Availability
Once you have brainstormed on a domain name, it is time to check if the name is available. This can be done using a domain availability checker tool or through domain registrars such as GoDaddy or NameCheap. We will discuss domain registrars more in a bit.
These platforms, whether an availability checker or a registrar, will provide you with an availability report on whether or not your chosen domain name is still available. If it isn't, then you will need to continue brainstorming until you find something that is available.
Step 3: Select a Name that Reflects Your Brand
Once you have found a domain name that is still available, it's time to select one that reflects your brand. This should be something recognizable, memorable, relevant, and easy to say. Not just another random word or phrase. This will help people remember your website address as well as make it easier for them to find you online when they search for something related to what you offer.
Characteristics of a good domain name include;
It should reflect your brand and its offering.
It should be easy and short.
It should contain numbers, characters, and symbols that can make it difficult to remember.
It should be relevant across different locations, periods, and times.
For example, if you are creating an online art gallery, then "artgalleryonline" might be a good choice. However, if you are opening up an auto repair shop called "Happy Wheels Automotive Repair Center," then using "happywheelsautorepaircenter" would probably be better.
Step 4: Decide on the Budget and Registration Timeframe
As with any business decision, you should consider your budget and timeframe when deciding on a domain name. The cost of registering a domain name depends on the domain extension (.com, .net, .org, .io, etc.) and the period of usage (four weeks, a quarter, annually, etc.).
Step 5: Purchase Your Selected Domain Name
Once you have decided on a domain name and determined the period of usage, it is time to make your purchase. You can do this through a domain registrar such as GoDaddy.
The registration process may involve confirming your identity and credit card details, or both. But note, before making the final purchase, make sure that the name being purchased is the one selected.
What Are Domain Registrars?
Domain registrars are organizations that manage the registration, renewal, and transfer of domain names. They provide a range of services to their clients such as domain name search, management, maintenance, and security. Domain registrars also offer different types of products that are designed to meet specific needs. These products include Web hosting services, which means they can host your website on their servers.
Registrars will typically charge you an annual fee for managing your domain name as well as additional fees for every service they provide.
There are many different registrars to choose from, and they all offer different features. Before you purchase a domain name, it's important to make sure that the one you have selected is accredited with the Internet Corporation for Assigned Names and Numbers (ICANN), which is the nonprofit organization responsible for coordinating all of the numerical spaces on the internet.
Some of the popular domain registrars include;
How to Buy An Already Purchased Domain
Sometimes when you get the perfect domain of choice, you will discover that these names have already been taken or used by some other brands or domain vendors. This is a common problem in the domain name industry and there are two ways to get around it. You can either purchase the name from whoever owns it or through a reseller platform.
1. Buying from the owner
If you want to buy a domain that has been registered, the best way is to contact the owner directly to see whether or not they are interested in selling and if so negotiate a price. This could be done through email or phone calls; however, it's important to get a good feel for the person so that you can understand what they want from you in return for parting with their domain name.
2. Buying from a reseller platform
If you can't find the perfect domain name from a direct owner, many reseller platforms offer domains for sale. These companies buy up domains from different owners and then resell them to customers at a higher price than what it would be if you purchased it directly from the owner. It's important to note that some reseller platforms charge a fee for listing domain names, while others don't. If you find a domain name on one of these reseller platforms, it's best to ask how much they will charge before making any purchases.
Renewing a domain name subscription
Domain name subscriptions expire after a certain period. When this happens, you can either renew your domain or let it expire and hope that someone else doesn't purchase it before you do. If you decide to renew the domain, there are two options: You can pay for one year at a time or two years at once. Some services let you pay monthly instead of yearly, but this will usually cost more per month than paying for an entire year at once. Many domain registrars will offer discounts if you choose to pay for multiple years upfront; however, some don't offer any discounts at all.
Before you can renew your domain name subscription, you need to check for expiration dates. If it's going to expire within the next month or so, then you want to renew it before that happens. You can do this by logging into your account and clicking on the "renew now" button.
In Conclusion
Domain names can be tricky, but they're also one of the most important pieces of your online presence. If you want to protect your business, make sure that you register the right domain name, and if you can't find what you need, consider purchasing it from a third party. You should also make sure to renew your domain as soon as possible so that no one else can take it away from you.
We hope you now have a better understanding of what a domain name is and how to go about buying a domain name for your brand.
The next step after getting your domain name is to work with a website designer or design agency like Effe Towers, to design and develop a professional website for your brand.