Have you ever been in a situation where you needed the expertise of someone, but due to your lack of knowledge in that field you feel lost and at the mercy of that individual? If you've been there you will agree with me that it isn't a great place to be in.
Let's take this home a bit, since the rise of e-commerce, many businesses have seen reasons to move their offerings online for various purposes. It has even become some type of standard that indicates professionalism for businesses in certain industries. As a result, many entrepreneurs have had to spend a very large amount of money some very avoidable. All of which we will address in this article.
Knowing the importance of a website for your business, do you just start building? No. If you want a very efficient and purpose-serving website for your business, there are certain key pieces of information you need as an individual before hiring a web designer. These pieces of information will equip you, and also help create a seamless design and development process for the web designer.
Key Information to Possess Before Hiring a Web Designer
Know the Purpose of Your Website
As basic as this sounds, many individuals get this wrong. Yes, I understand that having a website is the trend and every business has one, so you need one. But take a minute to think, does your business need one, or are you just moving with the bandwagon? Can you do your sales on social media platforms like Instagram, Facebook, TikTok, and the rest of them? What exact impact will having a website have on your business, and what purpose do you want the website to serve?
Different websites have different purposes, while some are strictly for informational purposes, some serve as a storefront to showcase and sell products and services, others for educational purposes, etc. Figuring this singular step sets the tone for whatever is going to happen on your website. It helps give a blueprint to your site and it defines your website architecture. Getting this wrong will in most cases affect the entire efficiency of the website.
2. Content Structure
This is a very important aspect many entrepreneurs miss and leave to the mercy of their designers who in many cases are not copywriters or content creators.
Because a site is only as good as the message it carries, therefore, the content structure of your website is an aspect you should pay careful attention to, and think through.
In many cases, I advise clients to seek the expertise of professional content writers like Effe Towers to help carefully craft their website and brand message. Taking into consideration their target audience, what appeals to these sets of individuals, the appropriate Call-To-Action to use, and when to use them.
The rule of thumb for creating content for any website whatsoever is to ensure that the first two sections of your website give visitors a clear idea about what you do.
The first section which is the header section should violently capture your visitor's attention. It should contain a headline giving a hint at what you do. The second section should buttress on this to give your visitor more information about your business. Never drown your website visitors with information, this causes information overload and no action will be taken by many.
3. Your Website Hosting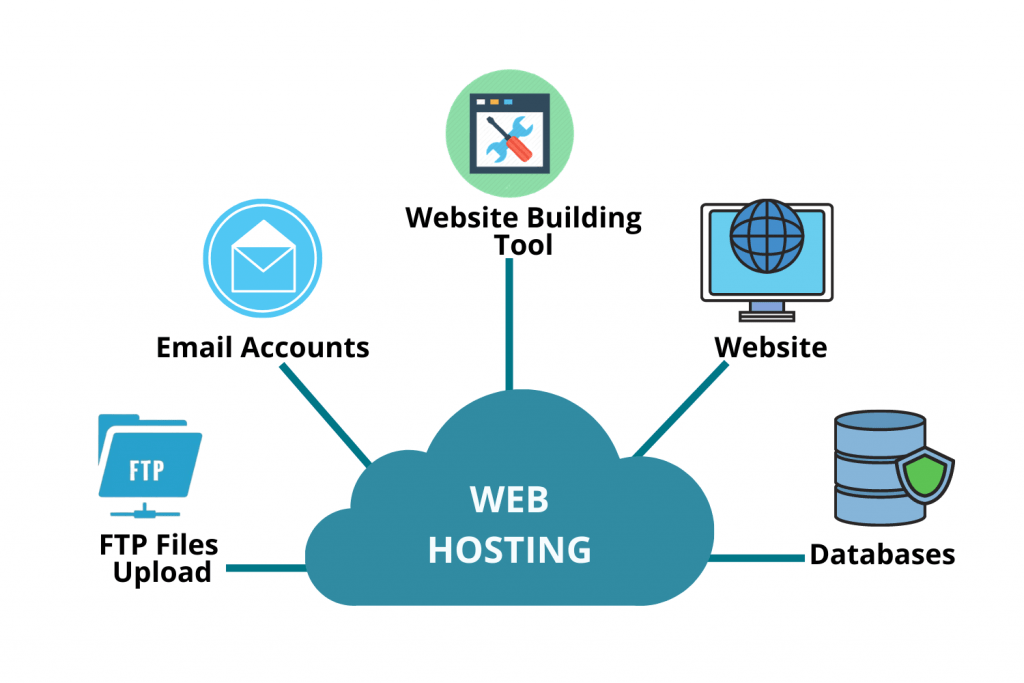 This is the cash sucking or saving area depending on how you handle it. Let's start with a simple explanation of what website hosting is.
Put simply, web hosting is the process of renting or buying space to house a website on the World Wide Web. A website hosting accommodates on a server file data about your website such as HTML, CSS, images, videos, etc. so that it can be viewable online. Aside from the computer space that is provided for Web site files, a website hosting plan determines the speed and fast connection of your website to the Internet.
There are different types of website hosting plans, and different website host providers provide different hosting packages based on the needs of your websites. There are;
The Shared Server hosting plan is where you share a server and its resources with other customers. This hosting type is recommended for businesses or websites or is starting new, and with not very high daily traffic. A shared server can accommodate as many as 20,000 visitors daily for an optimized website.
A Dedicated Server is a type of hosting plan not very common among small businesses and startups. It is a plan where a dedicated physical server is allocated to your website. It is the most expensive option and is most suitable for enterprise businesses with large databases and security needs.
The Virtual Private Server (VPS) hosting plan is very common among businesses and it offers the best of both a shared and a dedicated server. VPS allows fewer users to share allocated segments of hard drive space, memory, and processor power. Most website owners start out using shared web hosting. In time, as their site grows and demands more resources and functions, they may need a more powerful hosting option, and VPS is generally considered as the stepping stone between shared hosting and a dedicated hosting setup in which your website runs on its server.
To break things down a bit, remember what we said earlier about the purpose of your website? This is another area where that knowledge can be applied to yield great results for your website. A purely informational site does not need the hosting plan of an e-commerce website or highly visited websites (high traffic websites) with thousands of visitors and vice-versa. The heavier your website, the larger the server space (hosting plan) required. Thus to save money on your hosting, it is advisable to;
Start with a shared hosting plan especially if your website is new and does not have very large traffic yet. With time you can upgrade to a Virtual Private Server (VPS) hosting plan.
If you are not yet committed to building a website, or maybe you are building a prototype and just want to test the waters. You can use free web hosting. Different providers like Hostinger, Weebly, Wix, etc. provide this service.
You can find and use promotional codes or discount offers from a web host provider, these discount codes can save you huge money on web hosting. Most of the web hosting companies provide discount coupons to their affiliates and sometimes on special days like Cyber Mondays, Black Friday, etc. so just be on the look for these discount offers.
Also buying hosting for a long period. Most of the web hosts don't offer any discount on renewal which means you have to pay the regular price. But if you buy hosting for a longer time (say, 3 years), you will get a huge discount on the total purchase. The longer period you choose, the more you save.
Buy your hosting & domain name together from the same provider. Although you can buy hosting and domain names from two different places, buying them together will save some money for sure. Look for hosting providers that offer free domain names with their hosting plan. It is recommended to buy a domain & hosting name for a longer period as this way you will save more money.
Some popular website hosting companies include:
Visit their websites for their different hosting plans.
4. The Web Designer
This part I intentionally saved for the last because there are several factors to consider when selecting a web designer.
Portfolio: This is like asking to see their showroom. Every experienced web designer has a portfolio of designs to display to their clients. Judging from the quality of their previous work, this should guide your decision whether or not you are okay with employing their expertise or you should seek that elsewhere.
Builder/Language: Different web designers use different programming languages and content management systems (CMS). A CMS is a software program or application that is used to create and manage digital content. A good CMS will help you maintain your site, and you don't need much technical knowledge to use it. Popular CMS include WordPress, Wix, Squarespace, Drupal, Joomla, etc.
Process: This is a piece of very important information to get about a web designer before employing them to build your website. This is important because, you want to ensure that their work pattern, the process of communication, etc. are in tandem with yours and will get your project delivered in due time without unnecessary drama.
Pricing: The price range for websites differs based on their purpose and functionality. But general information you must have while engaging a web designer on their price is that the price for a single-page static website is lesser and cheaper than that of an e-commerce website or a website with multiple functionalities, bells, and whistles. So the larger your website, the more expensive it will be.
Finally, after taking these four areas above into consideration, you can then begin to think about things like your domain name that is, how people will search for and access your website online for example www.xyz.com. You must obtain a good and short domain name that can easily be remembered by people. You can also consider the website interface and other things.
But in summary, as an entrepreneur, before setting out to hire any web designer, and to build an efficient website that will serve the purpose to which it is built, save your cost, and convert, it is key that you know the purpose of the website, the content structure, the hosting plan, etc.
Effe Towers provides professional, highly effective, and converting websites for different brands, you can contact us for your website design.