It's 2022, and social media has become a huge part of our lives. Individuals, businesses, brands, and even government agencies now have very strong social media footprints, and they do a lot of communication and interaction with their target audience via social media because this is where a majority of this audience now spend most of their time.
Understanding this insight, it is pertinent that as a business or brand, you have to be strategic about leveraging your activities and communication with social media to foster your business growth and expansion. A good way to achieve this is by developing a social media calendar.
In this article, we'll cover everything you need to know about creating a social media calendar—from what goes into it and how often it should be updated to how you can use yours as part of an overall content strategy.
Browse the article's outline;
What social media calendar?
Why Use a Social Media Calendar
Planning Your Social Media Calendar
Create a Schedule for Amplification and Promotion
Measure Your Social Media Posts Across Channels
Build Your Own Social Media Calendar
What Is a Social Media Calendar?
A social media calendar is a tool that helps you organize your activity on social media. It is a simple tool to plan out and organize your content so that you consistently post content that is consistent with your brand, and engaging for your audience.
A social media calendar helps you organize your posts in advance. It helps you plan out what content to post on which platforms at specific times throughout the year so that your content strategy effort doesn't fall apart after one big push. It's also a great way to make sure you don't run out of ideas or get stuck in a rut.
Why Use a Social Media Calendar
There are many benefits of using a social media calendar, but the key benefits that stand out for every brand and business are;
Using a social media calendar helps you create consistent content that aligns with your brand's goals and objectives.
It makes it easier for everyone involved in the content creation process from writers and designers to marketers and managers to know what their responsibilities are when it comes to time to publish new posts on each platform every month.
It ensures that you're posting regularly and consistently without over-posting or missing out on important dates when it's best to share information with your audience.
Planning Your Social Media Calendar
To kick things off, it's important to have a social media calendar template.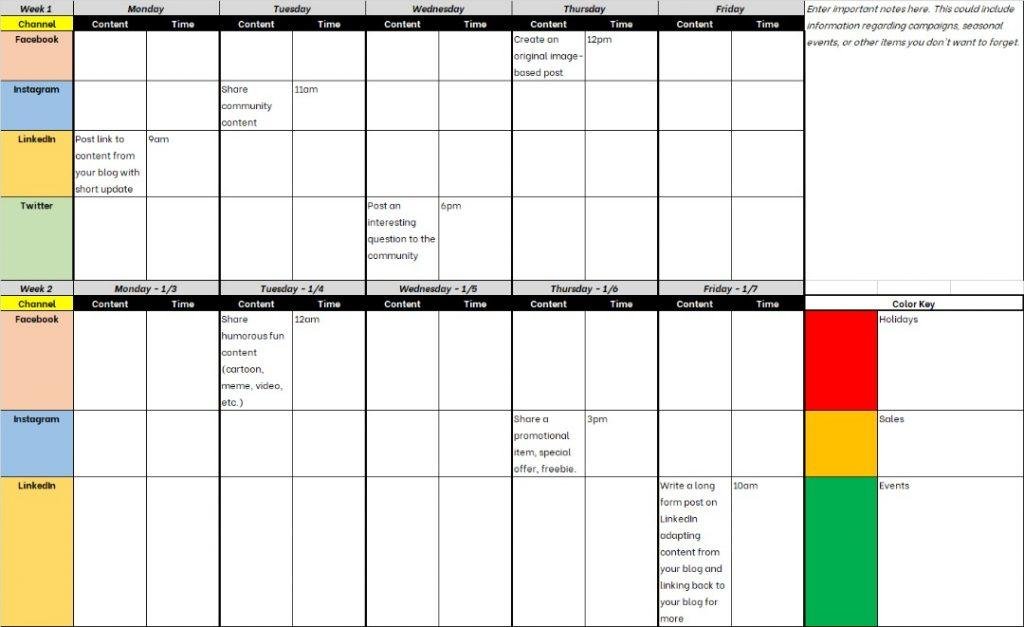 A good template can help you organize all of your ideas in one place so that they're easy to access, share and edit. We've created an editorial calendar template that includes all the information needed to create an effective editorial strategy, and you can find a free template to download and use for your business/brand in this article.
In planning your social media calendar, some very good options for creating your calendar include;
Spreadsheet
Planner
Calendar App (like Google Calendar)
Calendar Website (like Hootsuite)
Social Media Calendar Template (Like the one present in this post)
A good content calendar should have the following features;
Content themes
The first step to creating a successful content calendar is planning your themes. Having an idea of what you're going to write about, as well as when and where is essential for any content strategy. Planning your themes can help you:
Align with business goals — your content should be aligned with your business objectives so that it directly contributes to marketing goals like lead generation or newsletter signups.
Align with audience needs — Are there topics that get the most engagement from followers? If so, then focus on those topics in the future!
Keep up with competitors — Make sure that you're always ahead of the curve by knowing what they're posting so that you can respond accordingly if necessary (or even better yet, beat them at their own game).
Themes are recurring topics or ideas used on each channel (e.g., "Top 5 Tips"). A theme helps keep your content focused while providing continuity across channels.
Editorial calendar
If you want to make the most of your social media calendar, you'll need to plan out how much content you're going to publish and when. The best way to do this is by creating an editorial calendar that outlines your posts for each month, week, and day of the year—and beyond!
An editorial calendar outlines when posts will be published and provides an overview of upcoming content topics/titles so that you can see what's going on at a glance (e.g., "Monday – Top 5 Tips; Tuesday – How to Use Social Media").
This allows you to more easily plan for amplification opportunities such as paid advertisements or guest blogging opportunities by making sure there is enough time between posts for them not to compete with each other in terms of timing or similar subject matter
Plan out your content for each month: Before planning your content, decide on who your audience is and what they care about the most. A good way to achieve this is with a customer or user persona. Once you have figured this out, it's time now to determine how often they'll be exposed to new posts from you. This will help inform how many posts should go live each week or day within the different months in which these topics are relevant for marketing purposes.
Plan out your content for each week: Once again, start with an overview: What days should have some sort of update from me? Is there a common theme running through these days? Does my audience expect me to use these days differently than others? If so, why? How could I best serve them by using them differently?
Content Strategy Outline
You're probably familiar with the term "content marketing" if you're reading this, but did you know there are different types of content? You should have a plan for each type of content your business publishes, whether it's a blog post or video, or something else.
Blog posts: These are great for creating regular updates on your products and services. They can be very specific to an individual product or service (such as the steps involved in buying said product/service), or they can be more general (such as an update about what's happening at the company).
Videos: Video is one of the most effective forms of online marketing because it's easy to digest when someone has limited time and attention spans are shrinking by the second. Use videos like how-to guides for how clients can use particular products or services offered by your company, testimonials from happy customers who've used those products/services before (and maybe even some celebrity endorsements!), etc.
SEO-optimized blog posts: These should always include keywords related directly back to whatever topic they're covering (i.e., "web design companies"). It would also help if they were written in such a way that would let readers know exactly what those keywords mean without having them go look up definitions elsewhere online first—so keep them short and sweet!
All of these content strategies in your business should reflect in your social media calendar.
Create a Schedule for Amplification and Promotion
After you create a content calendar and assign it to your team members, you'll want to create a schedule for amplifying and promoting your posts.
Post promotion is an important part of any social media strategy—it can help boost engagement rates and give people more opportunities to see what you have to say.
In the same way that content planning helps you plan for the next month, post promotion allows you to prepare ahead of time so that when those posts are published they get maximum exposure. Your social media calendar needs this information so it can work seamlessly with all other marketing tools in your toolkit.
Measure Your Social Media Posts Across Channels
Once you're done creating content, it's important to check in on how it's performing. You'll want to keep track of impressions, clicks, and engagement metrics (likes, shares, and comments) across social networks so that you can optimize future posts. Here are some tools that can help:
Google Analytics: This free analytics tool provides access to data about site traffic and conversions from within a single dashboard. It also allows you to monitor user activity across multiple websites from one account—if your business has more than one site or app—and compare performance between them easily as well as overtime.
Socialbakers: This tool tracks performance for Facebook pages by pulling real-time data directly from Facebook's API instead of relying on third parties like CrowdTangle or NewsWhip
Build Your Calendar
While the media calendar template can be used by anyone, it's especially helpful for businesses that plan to create a lot of content or have several people contributing content. The goal is to help you stay organized and on top of your social media marketing plan. You'll be able to see what types of content are working best for you and make necessary adjustments before it's too late.
You'll also be able to see at a glance what kind of posts will go up during each time, and how many days out they are scheduled.
Download our template for social media calendar so you can;
Plan out your entire month of posts in advance (and edit them as needed)
See what posts are scheduled for each day of the month so you know when to post and schedule new posts
Know exactly what's going out on each social media platform at any given time
A social media calendar is an incredibly useful tool for any business owner. Get help with your user persona, your social media calendar, and your overall social media strategy contact the Effe Towers team here.