The success of a website depends on how effective it is at engaging with its audience. If you want to develop an online presence and generate traffic, then the first thing that comes to mind is content. This goes far beyond having a catchy title or an image. Website copywriting plays a vital role in every website's success by providing content that engages visitors and encourages them to take action.
Now, if you've ever had to write copy for a website, you know how daunting a task this can be, but don't stress! We are here to walk you through the process of creating effective website copy that will make your target audience take notice and take action. Let us begin with the basics:
What is Website Copywriting?
Website copywriting is simply the art of writing content for websites. It is like regular copywriting, but it's specifically used on websites. This type of copy is designed to help grow your business by converting visitors into customers or equipping them with the information or action you want to be taken.
Successful website copywriters are experts at persuasion: they know how to persuade readers to take action. They understand which words and phrases will get their message across clearly so that visitors can understand it, even if they're not experts in the subject matter themselves.
Website copywriters also need great attention to detail so that their writing does not contain any mistakes or typos (like spelling errors) because these mistakes can lead some potential buyers away from your site before they even have time to read what you have written.
Why is Copywriting Essential for a Website?
Copywriting is one of the most important parts of your website design process, it is as important as getting the website's design and development. This is because effective copywriting is what communicates your brand message to visitors, who then decide whether you are worth their time or not.
Content is what makes a website engaging; If you can capture a visitor with an enticing headline, they will be more likely to keep reading your content and return for more information later on. And if you do it well enough, these visitors could become customers, or at least tell their friends about you!
A good copy is what makes a website memorable, it makes a website stick in people's minds.
Fundamentals to Writing Effective Content for Websites
You've probably heard of the saying that "content is king" if the content is king, then the website is the king's castle.
If you want to make your mark, then you need to deliver unique, engaging content that will help your website stand out from the crowd. With so many websites competing for attention, it's all about standing out from the crowd, and this can only be achieved with good copywriting.
Here are key fundamental practices you must observe to create effective copies for your website:
Identify and study your target audience
The first step in every copywriting is research. Before writing, take time to identify and learn about your prospective website audience.
Who are they?
What do they need from your product or service?
What makes them tick?
What do they respond to when they're reading online?
Find out as much as possible about who will be reading your content so that you can tailor it specifically towards their needs and interests.
We made an entire article on how to identify your target audience on a granular basis, read the article here.
Once you have a good understanding of who your ideal prospective customers are, next focus on learning about them as people. If possible, talk with real people who fit the profile of those who will be visiting your website. What emotions do they feel when they visit websites like yours? When was their last experience with another company just like yours? Was it memorable – either positive or negative and why?
Learn about your competitors
As part of your research, you have to know who your competitors are, what they're doing and selling, what they're not doing or selling, and how all of these fit into their website content design and style.
Once you know the answers to these questions, you can start to create your content strategy. Take a look at what they're doing right and wrong and use it as inspiration for your approach.
The goal here is not to copy your competitors' content, but to learn from it and apply those insights in a new way.
Research keywords customers use to search for you or your competition
The first step in creating copy that works is to find out what people are looking for, and how your ideal customers are searching for you.
A good place to start this research is by using Google's Keyword Planner tool or other SEO research tools like SEMrush's Keyword Magic Tool, Ubersuggests, Ahrefs keyword explorer, etc.
These tools will give you an idea of the phrases and words people use when looking for information on similar products or services as yours, which is vital information when creating effective copy that speaks directly to those potential customers.
Once you have your list of keywords, save them, they will come in handy in your website content development soon.
Define the purpose and objective of your website
No website will be effective unless it has a primary goal, and your content won't either unless you know exactly what its overall purpose is.
The purpose of your website is what allows you to determine what content will work best on it, how it should be organized, and how you'll measure success. To define the purpose of your site, ask yourself these questions:
How do I want my audience to feel when they visit this page?
What do I want them to know or understand?
What action do I want them to take as a result?
Plan the website copy structure
After completing your research, the next step is to plan your website copy structure. A well-planned website copy structure is essential for helping your visitors find what they need, and for guiding them through the process of making a purchase or completing an action on your site.
Your website content should be organized around the user's needs, not around your product or service descriptions. Your primary goal is to help your readers achieve their goals as efficiently as possible. Whether that's making a purchase, contacting you for more information about your products/services, or learning more about your company.
Depending on the goal of your website or that page, your outline may look something like this.
A headline
A subheadline or supporting paragraph for the page content (optional)
The body of your page, which includes: 1–3 paragraphs supporting a topic sentence
Call-to-action section
Footer section
Techniques for Effective Website CopyWriting
There are different techniques for writing different pages of a website but for this article, we will only be addressing the techniques for writing a homepage.
Download our free website copywriting template below for insight on how to write other pages of your website.
Download your free website copywriting guide/template
We have made a simple guide to assist you in creating your own highly effective website copy from scratch.
The classic homepage technique
This is the most common website copywriting technique seen on most home or landing pages. Here's how this technique works;
1. Tell your brand value proposition
2. Write a condensed brand story
3. Display your services
4. Show social proof
5. CTA
A good example of the use of the classic homepage technique is this website for our client Local Chow, and even our homepage.
You are not limited to these pieces (you can include other sections like how it works, etc.), and in some cases, you might not need all of them, but in most cases, this is what you want on your homepage.
The upside-down homepage technique
The "Upside Down" homepage is used when a website's primary goal is increasing the number of subscribers. This technique is used mostly by sites that want to grow their email list or want visitors to subscribe to an offer.
Here's how it works;
The header copy on the landing page is designed to prompt visitors to subscribe to your email list.
Immediately below the header, include some social proof.
Then tell a story that describes how you encountered and solved a problem your readers are also facing, ending with an invitation to give you their email in exchange for some valuable resource they can use immediately.
A good example of a page with this type of web copy includes; backlinko.
Writing Your Website Copy
Now that you have learned about the fundamentals of writing good web copy, let's move to the actual writing.
Create attention-grabbing headlines
Headlines are the words you see at the top of your screen, above the fold (the part of your screen that is visible without scrolling). Headlines should be short and catchy. You want people to read them so you can get them hooked on what they contain!
A good example is this headline for one of our clients.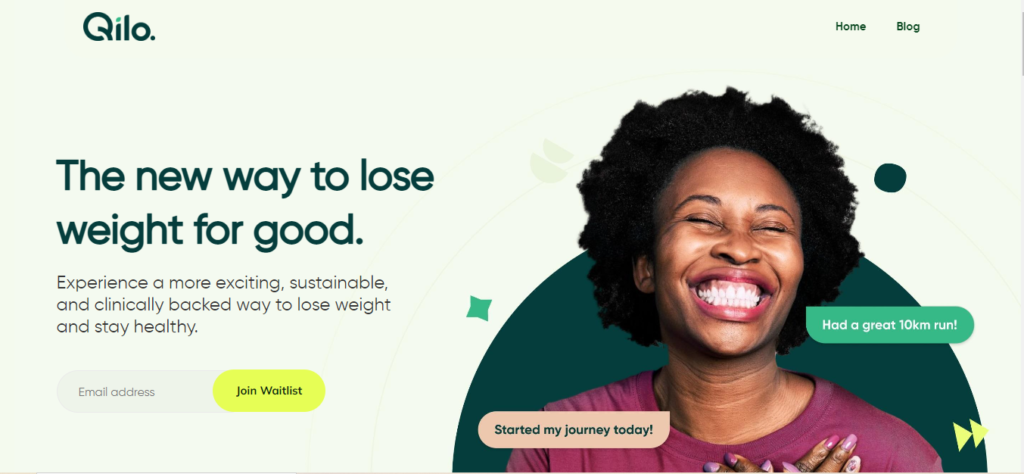 Speak to your audience with your copy
When you write your copy, remember to use a conversational tone. You must talk to your audience as if they were friends or family members. If they can't understand what you are saying, then there is no way that your website will be effective.
The best way to do this is by using words that are familiar to your target audience and relevant to their lives. You should also use words that are easy for them to read and understand so that they don't get confused when they visit the site.
Use clear Call-To-Action and emphasize Action
To get your visitors to take action, you need to provide them with a call-to-action (CTA). A CTA is an instruction that directs people where they should click or go next.
This can be as simple as "Contact us" or "Book now."
Make sure that your CTA has these qualities:
Clear wording – Make it very clear what action the user needs to take after reading your copy, headline, or ad copy
Strong verb – This is usually either an imperative verb or a noun phrase (like "Download Now" or "Get Started")
Write Clearly and Concisely
Writing copy is a delicate process; each word must be carefully selected to make sure it contributes to the intended message.
To write clearly and concisely, you should:
Use simple language and short sentences. Avoid jargon and filler words, you need to make your copy easy to read. This means using short sentences and paragraphs, bullet points, and numbered lists.
Use bullet points and numbered lists to break up text into easily digestible chunks. This will make it easier for readers to skim through your page.
Optimize the website content for search engines
Remember those keywords you researched earlier? It is time to put them to good use.
To make your website visible to prospective customers on search engines, use some of these keywords in the title and body of your page, as well as meta descriptions and URLs. It's also important to optimize images by adding ALT tags with relevant information about the image.
Proofread and edit the website content.
Finally, you want to proofread and edit the website content. This step is critical because you want to make sure that your website content is easy to read, easy to understand, and devoid of typos and grammatical errors. You should also check for spelling errors and ensure consistency in terms of tone, length (of paragraphs), accuracy, context, relevance, readability level (based on grade-level reading comprehension), and more.
There you have it, you have your website copy!
Conclusion
Writing web copy is an art that requires skill and planning. When you sit down to write, you need to have a clear idea of what your audience wants. You also need to understand the product or service being sold, as well as how it works and why it's better than the competition. The best way to do this is through research and knowledge.
Once you understand who your audience is and what they want from your business, and once you know all about the product or service itself – get creative!
Writing effective copy can be an intimidating task. However, once you learn how to do it right, your marketing will soar!
Download your free website copywriting guide/template
We have made a simple guide to assist you in creating your own highly effective website copy from scratch.