Ecommerce is a growing industry, and it's easy to see why. More people than ever before are shopping online, making it easier than ever before for entrepreneurs to sell their products. Whether you have a physical store or operate solely online, an eCommerce website builder can help you get started with a professional-looking website with minimal effort.
Ecommerce website builders are great for a lot of reasons. They offer a wide range of features and templates that can be customized to suit your needs. They make it easy for you to get your store up and running without having to spend hundreds of dollars on custom coding. However, not all eCommerce website builders are created equal; some are better suited for certain types of businesses than others.
In this article, we'll take a look at the best eCommerce website builders for different business types so that you can find the one that's right for you.
The Different Ecommerce Website Builders
There are a lot of eCommerce website builders out there, but some are more suited to certain business types than others. To help you decide which one is right for your business, we put together this list of the best eCommerce website builders for different business types.
Shopify
WooCommerce
Wix eCommerce
BigCommerce
Weebly
Zyro
Squarespace
Magento
1. Shopify
Suitable for businesses with high-volume sales & large product catalogs.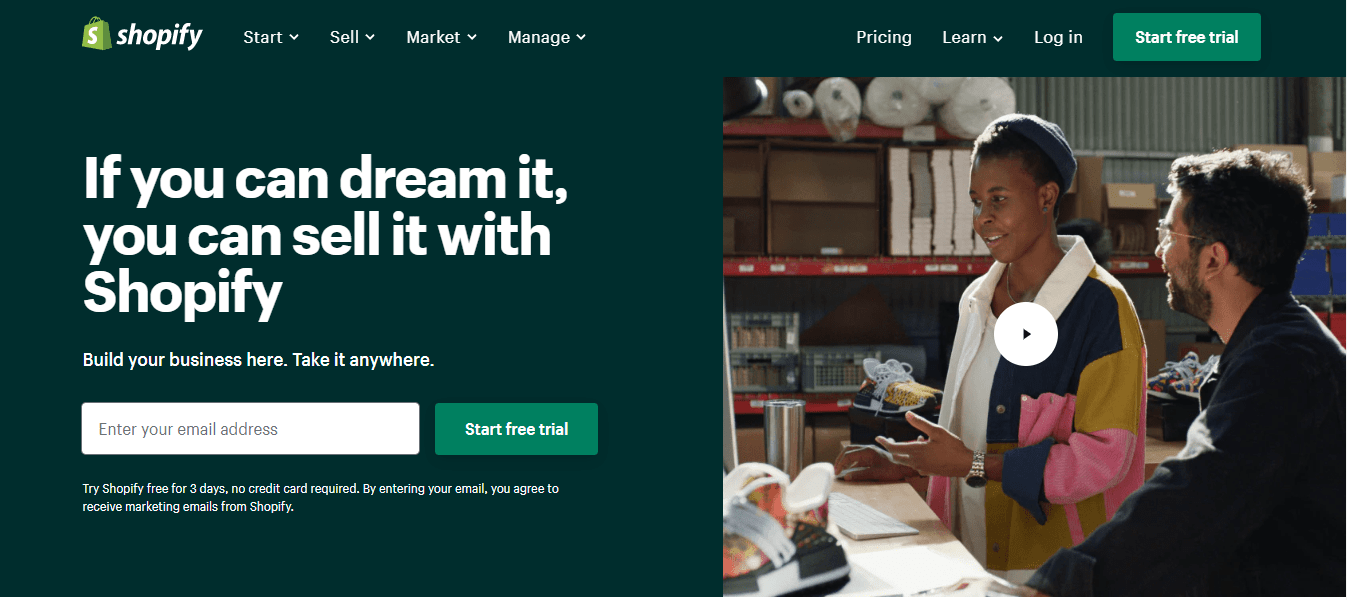 From cosmetics to fashion accessories, apparel, electronics, etc. Shopify is a great choice for high-volume eCommerce stores. It's highly scalable and flexible, allowing you to grow your business as it grows.
Shopify is one of the most popular eCommerce website builders on the market today, with more than 3 million stores using it to run their businesses. It is especially popular with small business owners and entrepreneurs who want to sell physical products online but don't have a lot of experience doing so. That's because Shopify offers many different tools that help you build your site, manage inventory and orders, and create marketing campaigns.
Shopify's drag-and-drop interface makes it easy to build your store from scratch or customize an existing design.
Pricing: Shopify has a free and paid version, but they both have a 3-day free trial before buying. The paid version starts at $29 per month (billed annually).
2. WooCommerce
Suitable for businesses that sell a large range of products or services and want to scale their customer experience.
From businesses selling online courses to medical services and even to large retail stores, this WordPress platform is a great choice.
WooCommerce is an open-source eCommerce platform and one of the most popular eCommerce platforms. It integrates seamlessly with WordPress, and like Shopify, it offers an easy-to-use drag-and-drop interface that lets you build your store from scratch or customize an existing theme with a whole range of features such as payment gateways, shipping plugins, marketing tools, and more!
One of the biggest advantages of WooCommerce is its huge community of users who are sharing knowledge and helping each other out on forums like Stack Overflow.
Pricing: WooCommerce is free to use with a self-hosted WordPress site.
3. Wix eCommerce
Best for small online stores.
Be it a home food vendor, a flower business, or an online store for selling handmade goods, Wix eCommerce is a great platform to build your online shop.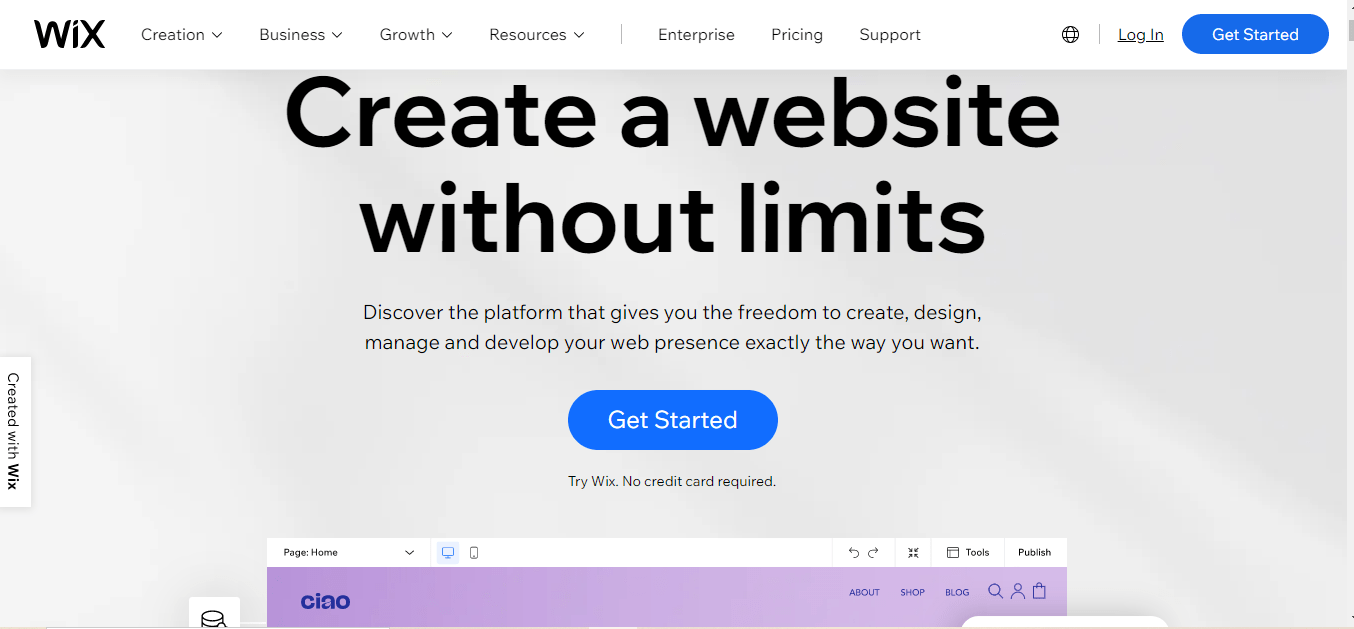 Wix eCommerce is one of the most popular website builders on the market and it is also one of the best eCommerce platforms for small business owners who are looking to get started with an online store quickly and easily.
It has all the features you'd expect from an eCommerce platform: product catalogs, shopping carts, and payment integrations. The best part? Wix offers 1-click installations for all major shopping cart services (e.g., Shopify), so you can easily add your storefront once your site is built.
The Wix eCommerce platform integrates seamlessly with its drag-and-drop website builder, allowing you to build your online store in just a few minutes using pre-built templates or start from scratch by customizing existing themes!
Pricing: Wix eCommerce basic plan starts at $23/month.
4. BigCommerce
Best suited for businesses with large catalogs and complex sales funnels.
This is another great option for building an online store. It is suitable for SaaS businesses and businesses with large product catalogs.
BigCommerce is a fully-hosted eCommerce platform that offers one of the most robust feature sets in its class – product catalogs, shopping carts, payment integrations, inventory management, and everything you need to run your online store, including product management, SEO tools, order management, marketing automation, customer service chatbots and more!
It boasts an easy-to-use interface and powerful admin panel, making it ideal for both beginners and advanced users alike!
The platform integrates with all major shopping cart services (e.g., Shopify), so you can easily add your storefront once your site is built!
Pricing: A 15-day free trial is available. Subscription plans start at $29.95/month.
5. Weebly
Ideal for small-scale side businesses.
Whether it is your ebook or a paid subscription newsletter, Weebly is a good option.
Weebly is a drag-and-drop website builder with a wide range of tools and templates that you can use to build your website, including blog pages, eCommerce stores, portfolios, and more.
Weebly's drag-and-drop interface makes it easy for even beginners to create their sites. In addition, it boasts an intuitive back-end dashboard that allows users to manage their sites without any coding knowledge.
Anyone can build a website on Weebly for free. But you won't be able to use your domain name (or get rid of the annoying ads) until you buy a plan.
Pricing: Free. Plans start at $6/month for more features and support.
6. Zyro
Best for businesses requiring customer data and analytics.
From insurance businesses to healthcare products, and even businesses that sell services and software. Zyro is the perfect tool for businesses that need to collect and analyze customer data.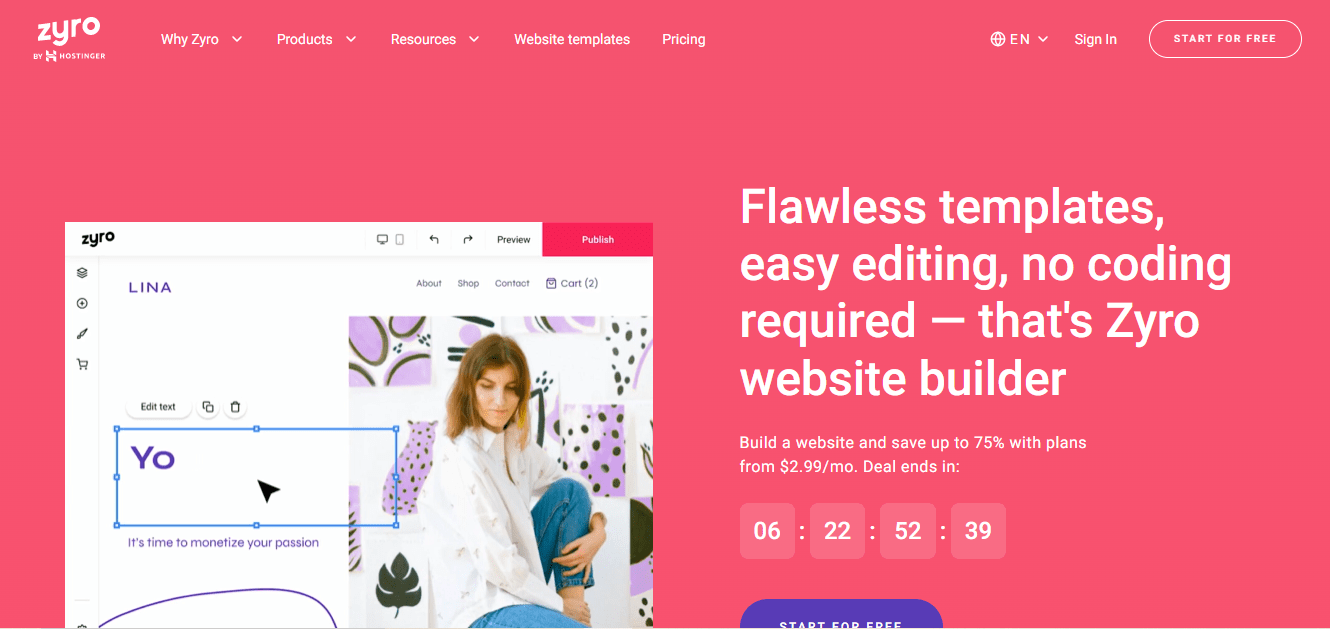 This is a DIY website builder that lets you create and manage your site. It offers a variety of eCommerce tools including 24 professionally designed templates that are sure to give your store the look and feel you want.
Zyro's site builder emphasizes ease of use. You get deep marketing, tracking, and targeting capabilities on the back end. Offers easy integrations with Google Analytics, Google Tag Manager, and Facebook ads so you can learn about your customers and improve your marketing and advertising efforts.
Pricing: Zyro doesn't have a free plan. Plans start at $11.49 per month.
7. Squarespace
Best for showcasing and selling creative work.
Paintings, writings, crafts, content, etc. Squarespace is a great eCommerce platform for people who want to showcase and sell their creative work.
Squarespace is an all-in-one solution for website builders and online merchants. The platform offers everything you need to create a beautiful online store, including eCommerce tools, marketing software, and more.
Because of its background as a traditional website builder, Squarespace might require a little technical knowledge, but its drag-and-drop builder makes it easy to use.
Squarespace makes it easy to connect your site to social media accounts and to push new content to Facebook, Instagram, and other social media platforms in real time. Making it highly suitable for creatives.
Pricing: 14-day free trial. The basic commerce plan starts at $26/month.
8. Magento Open Source
Suitable for both B2B & B2C businesses.
Whether you are selling directly to customers or perhaps you are business-facing, Magento open source can accommodate your business.
Magento is a powerful eCommerce platform that has been around since 2007 and is used by thousands of businesses around the world. Magento Open Source has all of the tools and capabilities like Integrated checkout, payment, and shipping, customer accounts, SEO, promotion & pricing, and other functionalities that are required for a small business
Magento allows you to customize your store but may require an experienced developer to customize these integrations or extensions as needed.
Pricing: Magento Open Source is free, although there is a paid version of Magento now referred to as Adobe Commerce.
How to Choose an eCommerce Website Builder
Choosing the right eCommerce platform for your business is dependent on several factors.
Here are a few questions to ask yourself:
What type of business do you have?
How much customization do you want for your store?
How much traffic do you expect to get? The more traffic, the more robust platform you'll need. If this is a new website and your current site isn't getting much traffic yet, you may not need anything too complex until it grows.
How much money are you willing to spend on the site? Don't get lured into overspending because some platforms seem cheaper than others at first glance—they might not be worth it in the long run if they don't meet all of your needs!
Are there any specific features that would make managing my store easier or faster (such as inventory management)?
Conclusion
There are a lot of eCommerce website builders out there, but some are more suited to certain business types than others.
In the end, it's important to know what kind of business you want to start and which features are most important. You don't have to choose just one builder; there are plenty of options available for all types of businesses.
For those who want their customized e-shop design without the time or technical know-how to build it from scratch, working with professional website developers can help you get your store up and running in no time.